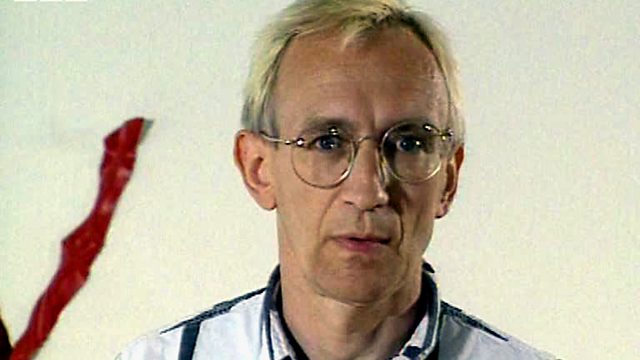 Richard Wentworth
Patrick Hughes introduces a look at sculptor Richard Wentworth, who explains why his unconventional work, which focuses on the imperfections in ready-made objects, provokes such strong reactions. Examples abound of Wentworth's witty takes on the world around him, which challenge the notion of what art actually is, and it is revealed how the sculptor's own children react to his creations.
Last on
BBC Two
except

East,

South East,

Yorkshire
Did You Know?
Richard Wentworth was born in 1947 in Samoa and not as the programme states, Cambridge. He studied at Hornsey College of Art and the Royal College of Art in London and during this period he worked with Henry Moore. He went on to teach at Goldsmith's College, University of London, before being appointed to the German Academic Exchange Service in Berlin.
In 2002, he was made Master of the Ruskin School of Drawing and Fine Art at Oxford University. He became Professor and Head of the Royal College of Art's Sculpture Department in 2009.
Archive
Archive programmes available on iPlayer reflect the broadcast standards and attitudes of their time, which may not accord to some current BBC editorial guidelines. We aim to select programmes which can be shown in their entirety but in some cases edits are required. In these cases, edits are kept to a minimum and are made only for technical reasons.