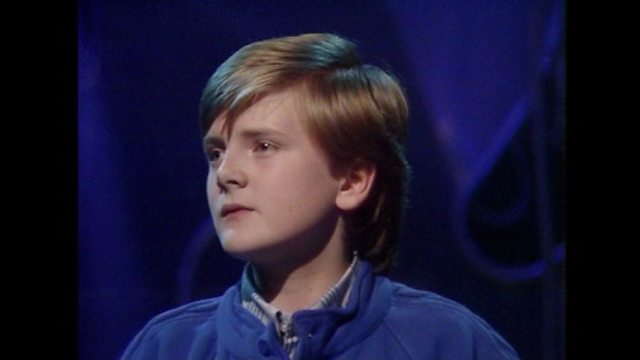 Aled Jones - Walking in the Air Christmas 1985
Fourteen-year-old Aled Jones sings 'Walking in the Air' for his Top of the Pops debut - a Christmas hit December 1985.
Aled's rendition of Walking In The Air became forever associated with Christmas, due to the song being featured in the evergreen Raymond Briggs animation The Snowman. It made Aled a huge international star, although it wasn't his voice on the film but that of Peter Auty.
Aled was born on 29 December 1970 in Llandegfan, Anglesey. He joined the Bangor Cathedral Choir aged nine, and won many national singing competitions and Eisteddfodau.
He also performed with legendary composer/conductor Leonard Bernstein and sang with the Los Angeles Philharmonic Orchestra in front of 27,000 people. Less fortunate was the occasion when he forgot the words to Memory while singing for the Queen - an occasion which reportedly caused him nightmares for some years afterwards.
And then he disappeared from the public eye. Aled had to overcome the adolescent problem of the broken voice. Opera star Stuart Burrows advised him to not sing for five years once his voice broke. He became a county level tennis player, and studied at the Royal Academy of Music where he joined jazz-funk band A2Z. He went on to gain entry at the Bristol Old Vic Theatre School, where he trained as an actor. It led to appearances in productions of Twelfth Night and Joseph And His Amazing Technicolour Dreamcoat.
In addition to his recording and presenting commitments, Aled wrote his autobiography, and competed in Strictly Come Dancing, in which he came fourth in 2004.
Featured in...
A collection of archive footage featuring Wales in the 1980s.

A selection of BBC Christmas archive from Wales

Highlights of favourite BBC Wales programmes reflecting the story of Wales and its people.