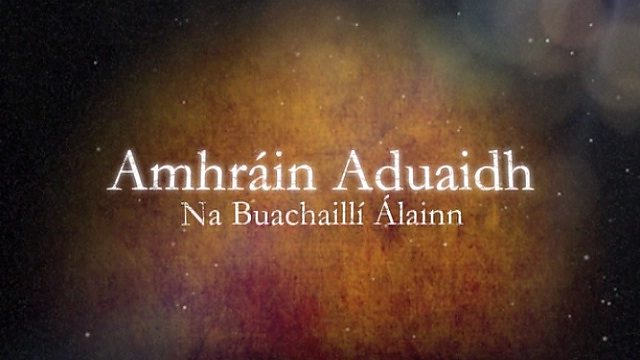 Na Buachaillí Álainn - ciall an amhráín
Máire Ní Choilm sings Na Buachaillí Álainn. Dr. Lillis Ó Laoire and Dr. Sorcha Nic Lochlainn explain how the song shows the effect of emigration from the viewpoint of the people left behind.
Na Buachaillí Álainn
Mo bheannacht leis buachaillí a d'imigh uaim thar sáile
D'fhág siad culaith dheas orm le dul amach Dé Domhnaigh
Cóta mór go talamh agus veist den tsíoda láidir
Bríste a bhí san fhaisean agus bróga den leathair Spáinneach
'S óró na buachaillí, 's na buachaillí a bhí álainn (x2)
Nuair a chímse an fharraige gharbh, ó 'sé mo chroí bíos cráite
Ag smaointiú ar na buachaillí mar bíonn siad ins sna badaí
Guímse rí na n-aingeal 'sé shocraíos na pláineid
Go dtabharfadh sé slán na buachaillí ar chontúirt a bheith báite.
'S óró na buachaillí, 's na buachaillí a bhí álainn (x2)
Fuair mé litir as Albain 's ní raibh sé i mo shásamh,
Gur pósadh na buachaillí ar chailíní na háite
Ní nár mhaith linn acu iad dá mbeadh siad inár sásamh
Ach cailíní na n-oileán, 's iad an dream ab'fhearr linn
'S óró na buachaillí, 's na buachaillí a bhí álainn (x4)