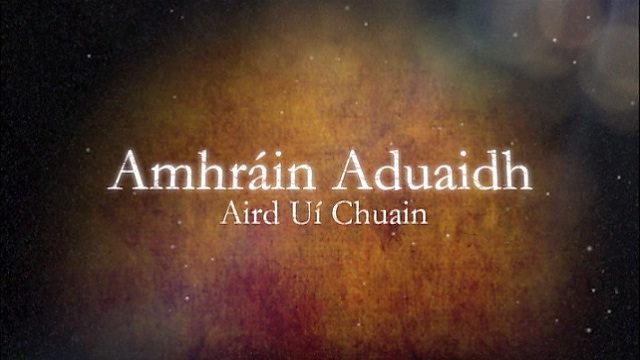 Aird Uí Chuain - ciall an amhráin
Ciara McCrickard sings Aird Uí Chuain written by Cormac Ó Néill. Dr. Sorcha Nic Lochlainn, Dr. Art Hughes and Dr. Diarmuid Ó Doibhlinn explain what the song tells us about immigration.
Aird Uí Chuain
Dá mbeinn féin in Aird Uí Chuain
In aice an tsléibhe atá i bhfad uaim
B'annamh liom gan dul ar cuairt
Go gleann na gcuach Dé Domhnaigh
Is iomaí Nollaig a bhí mé féin
I mBun Abhann Doinne is mé gan chéill
Ag iomáin ar an trá bháin
'Is mo chamán bán ins mo dhorn liom
Agus och och Éire 'lig is ó,
Éire lonndubh is ó,
'Sé mo chroí 'tá trom 's bronach.
Nach tuirseach mise anseo liom féin
Nach n-áirim guth coiligh lonndubh nó traon
gealbhán, smaolach, naoscach féin
Is chan aithním féin an Domhnach
Agus och och Éire 'lig is ó,
Éire lonndubh is ó,
'Sé mo chroí 'tá trom 's bronach
'Sé seo an choraíocht atá buan
Ar a' tsaol go gcuirfeadh sé cluain
Mheallfadh sé an chaora ón uan -
Agus mheall sé uaimse an óige
Agus och och Éire 'lig is ó,
Éire lonndubh is ó,
'Sé mo chroí 'tá trom 's bronach
Dá mbeadh agam coite is rámh
D'iomairfinn liom ar dhroim a'tsnáimh
'S mé ag duil le Dia go sroichfinn slán
Is chan aithním féin an Domhnach
Agus och och Éire 'lig is ó,
Éire lonndubh is ó,
'Sé mo chroí 'tá trom 's bronach
'S go bhfaighinn bás in Éirinn