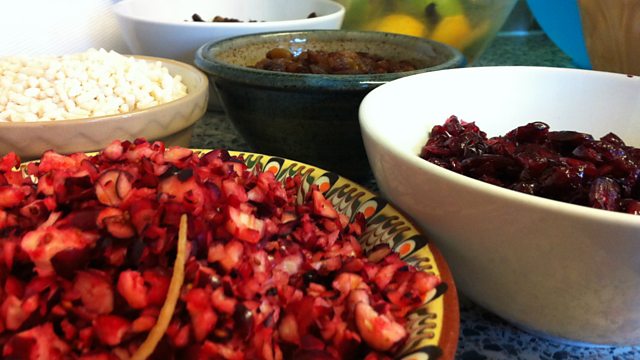 Food Friday: Mince pies with homemade mincemeat
Mincemeat
300g fresh cranberries minced in a blender or coarsely chopped
500g coarsely grated bramley apples
1 large beetroot, peeled & finely grated
225g shredded vegetable suet
350g raisins
250g sultanas
250g currants
250g dried cranberries
350g muscovado sugar
Grated rind and juice of 4 oranges & 4 lemons
6 teaspoons mixed spice
6 generous tablespoons of cooking brandy
Combine all of the ingredients with exception of the brandy & make sure everything is mixed in evenly.
Cover the bowl with a layer of greaseproof paper & a layer of silver foil, then place into an oven, on the lowest setting for 2 to 3 hours, giving it a little stir half way through.
Take the bowl out of the oven and stir in the brandy. While still hot, spoon the mincemeat into prepared jars, tightly close the lids. The taste of the mincemeat will mature over time as the tartness of the cranberries mellows & the brandy seeps into the fruits, so it is best left for a couple of days before using.
Grandpa's Pastry
400g plain flour
1 tablespoon icing sugar
Pinch salt
125g lard or vegetable fat
125g butter
1 egg
Juice of one lemon and the rind for sprinkling on when baked
Combine the flour, icing sugar and salt. Rub the lard & butter in to make a fine breadcrumb texture.
Beat the egg and the lemon juice together, add to the flour mixture and bring together into a ball. You may also need a few drops of water. Wrap the pastry & rest for about half an hour in the fridge.
Now you need to prepare the patty tins.
Roll the pastry out quite thinly, cut 12 tops and 12 bottoms.
Place the bottoms in the tins, fill quite generously with mincemeat. Place the tops on, make little steam holes if you are just using rounds.
Glaze with milk, sprinkle with sugar and mixed spice and bake in a preheated oven 180, Gas mark 4 for 15 to 20 minutes or until golden on top.
For the gluten free recipe and more email ben.jackson@bbc.co.uk