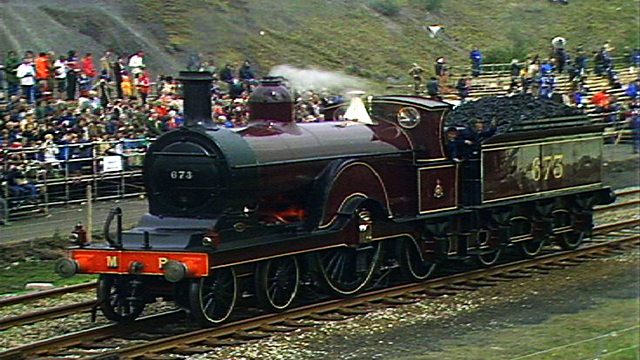 The Great Railway Cavalcade: Rocket 150 at Rainhill
First transmitted in 1980, Brian Redhead reports from the 'Rocket 150' event held at Rainhill, Lancashire to mark the 150th anniversary of the world's first inter-city railway and the Stephensons' legendary Rocket locomotive. On display are 'celebrity' engines from across the country, including the 'Green Arrow', the 'Flying Scotsman' and the record-breaking Mallard-class train that bore its designer's name, 'Sir Nigel Gresley', as well as the king of the modern electric railway, the Advanced Passenger Train (APT).
BBC Four Steam Railways Collection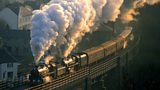 This programme is part of a collection of programmes celebrating Britain's extraordinary Steam Railway legacy.
More about this programme
Sir Herbert Nigel Gresley designed nearly 30 locomotives that were introduced to the GNR and LNER lines from 1911 to 1941. Many of those engines are featured in this programme. His dream of opening a national locomotive testing plant for the 'attainment of increased efficiency' was delayed by the outbreak of World War II. Gresley died on 5 April 1941, but in 1948 his testing plant finally opened. The first locomotive to face the tests was named the Sir Nigel Gresley in his honour.
About BBC Four Collection programmes
Programmes are selected, in part, for their historical context and reflect the broadcast standards and attitudes of their time, which may not accord to some current BBC editorial guidelines. We aim to select programmes which can be shown in their entirety but in some cases edits are required.

Credits
| Role | Contributor |
| --- | --- |
| Presenter | Brian Redhead |
| Reporter | David Jenkinson |
| Participant | John Bellwood |
| Director | Martin L Bell |
| Producer | Martin L Bell |