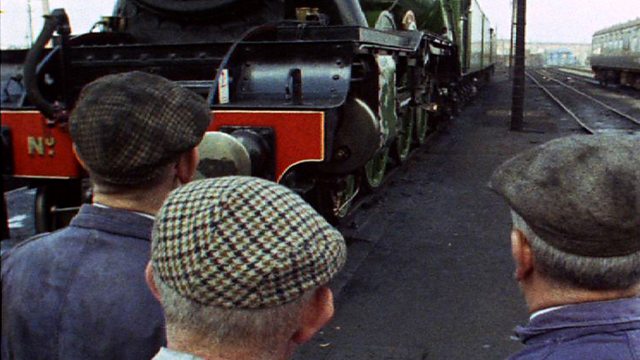 4472 - Flying Scotsman
First transmitted in 1968, this programme follows the attempt made to drive the 'Flying Scotsman' directly from London's King's Cross to Edinburgh's Waverley station without stopping, just as it was done 40 years ago. There is some spectacular aerial photography of the train en route and we meet the engine's owner, Alan Pegler, and some travellers and well wishers along the way. One of the passengers, a rather famous vicar and train enthusiast, explains how he first came to write stories about engines for his sick little boy, who insisted they were all given names.
BBC Four Steam Railways Collection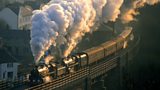 More about this programme
Reverend Awdry, as well as writing the Thomas the Tank Engine stories, appeared in some of the illustrations for his own books as the Thin Clergyman. His travelling companion in this programme, Cuthbert Hamilton Ellis, was also a writer and illustrator of books about trains, with a particular interest in the study of carriages and model railways.
About BBC Four Collection programmes
Programmes are selected, in part, for their historical context and reflect the broadcast standards and attitudes of their time, which may not accord to some current BBC editorial guidelines. We aim to select programmes which can be shown in their entirety but in some cases edits are required.

Featured in...
Planes, Trains and Automobiles

Celebrating Britain's extraordinary Steam Railway legacy.