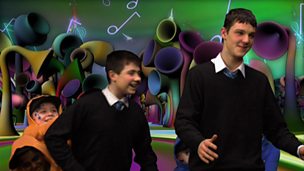 Musical theatre production of I Know Me (pt 2/ 6)
Duration: 04:02
The characters Sidney and Jake, who we were introduced to in the musical's first part, are in the lift Sidney had ran into while trying to get away from the group of bullies who had been terrorising him in school. We see Jake threatening to punch Sidney when the lift doors open onto a strange and fantastical world, rather than a school corridor. The boys have been brought to the land of music, song and dance. We see the Spirit, the musical's other principal character, singing the songs 'Welcome' and 'Wait'. Welcome is a solo piece while 'Wait' includes singing parts for each of the three principal actors. We also meet the Sprites, the Spirit's little helpers. Though completely unnerved at having found themselves in the Spirit's world, and with the lift doors closed and having no way of escape, the boys are forced to listen to the Spirit. We're given clues in Wait's lyrics that the Spirit brought the boys to her world to help them.
Available since: Mon 26 Nov 2012
This clip is from
A musical developed and performed by groups of pupils with special educational needs.