Clearing the Deadly Legacy of Libya's Revolution
The Libyan city of Misrata was the scene of some of the bloodiest fighting during the revolution that toppled Colonel Gaddafi last year. A deadly legacy of unexploded shells, bombs and mines litter the city and the surrounding areas. Ali Abohajar has the highly dangerous job of removing them.
Also, the unlikely friendship between a Parisian cabaret dancer and a tribal chief from Papua New Guinea;
And the challenges of being a reporter in Pakistan's Swat Valley.
Picture: Preparing a live anti-aircraft missile so it can be taken away for safe disposal.
Credit: J-J Bernard/Handicap International
Last on
Mon 17 Dec 2012
12:05

GMT
Dancing With the Papuans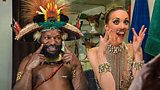 The unlikely friendship between a Parisian cabaret dancer and a tribal chief from Papua New Guinea