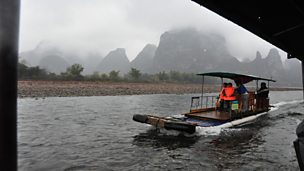 A child-led tour of Xingping in the Guangxi province of China
Duration: 08:13
Zhao Zhenhui lives on a little island in the Li River. If they need to go anywhere, the inhabitants must use a boat to cross the river onto the mainland - even school requires a boat journey every day. He spends all his free time with his friend. They show us the beautiful karst peaks and life on the banks of the Li River. Despite the fog, common at this time of year, we can see the busy river traffic framed by the spectacular peaks. The 20-Yuan note depicts the view in his locality and Zhao excitedly shows us the 'real life' view. His mother works hard selling fruit to tourists and workers. She grows her own citrus fruit, including oranges and pomelo, and teaches the boys how to take care of the citrus trees so that they yield the best fruit.
Available since: Fri 23 Nov 2012
This clip is from
3/3 Child-led documentary revealing the geography and culture of China.
First broadcast: 30 Mar 2012