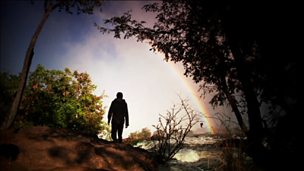 Evidence of the Big Bang
Duration: 04:25
Professor Brian Cox explains how evidence for the Big Bang can be found by analysing the colour of starlight. Astronomers have found that the further a star or galaxy is, the redder its light appears. This effect is known as red-shift and it tells us that distant stars are moving away from us. Scientists interpret this as evidence for an expanding universe.
Available since: Fri 23 Nov 2012
This clip is from
Professor Brian Cox witnesses the wonders of the universe in 12 short films.
First broadcast: 05 May 2011