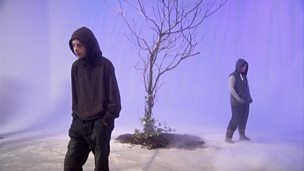 Musical theatre production of I Know Me (pt 5/ 6)
Duration: 08:00
We see Jake and Sidney, the characters we were introduced to in Part 1 of the musical, and the Spirit and her Sprites, who were introduced in Part 2, in the Spirit's world – the land of music, song and dance which is a computer generated virtual world. While singing Journey to the Lonely Place, we see the Spirit and her Sprites leading Jake and Sidney towards the Lonely Place, where Sidney and Jake will confront the loneliness they both feel. Journey to the Lonely Place is sung by the Spirit and Sprites, with a line sung by Sidney and Jake, that highlights the issue they're being guided to resolve. We see Jake, Sidney and two lonely characters, singing the song I'm Lonely, in a barren landscape. The Spirit enters and transforms the scene from one of loneliness to one of friendship. We see Sidney, Jake, the Spirit and the two other characters sing the reggae based song Say Hello.
Available since: Fri 23 Nov 2012
This clip is from
A musical developed and performed by groups of pupils with special educational needs.
First broadcast: 19 Apr 2012