Somali Chef Defies Suicide Bombers
Three years ago, Ahmed Jama was running a successful Somalian café in southwest London. But he decided to go home to Mogadishu, where he set up four restaurants. Since last September, two of his venues were targeted by suicide bombers thought to be connected to the Islamist militant group al-Shabab. Ahmed told Matthew Bannister why, despite those attacks, he is determined to carry on.
When 35-year-old US Marine Derek McGee began sending emails home while serving in Iraq, he never expected they would be turned into a play six years later. The play, a monologue, is an account of McGee's experience fighting in Fallujah and the difficult transition to coming home. He spoke to the BBC's David Botti, who left the Cops shortly before McGee was sent to Iraq.
Dr Alexander Kumar has recently returned from spending 11 months living in the Concordia research station in Antarctica. Cut off from the outside world, braving temperatures of 80 degrees below freezing, he and his team didn't see the sun for three months. The aim was to simulate the conditions which might be faced by astronauts travelling to Mars. He told Matthew Bannister about the harsh winter he endured.
Picture: Debris left after suicide bombers attacked one of Ahmed Jama's restaurants in Mogadishu
Photo credits: Mohamed Abdiwahab/AFP/Getty Images
Last on
Thu 13 Dec 2012
12:05

GMT
Alexander Kumar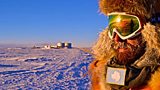 The doctor who braved the Antarctic winter to find out about life on Mars. Picture: Alexander Kumar outside Concordia Research station in Antarctica Credit: Alexanderkumar.com