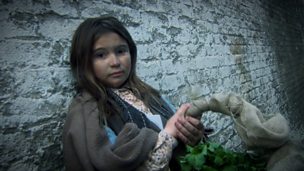 Street jobs for children in Victorian times (dramatisation)
Duration: 05:57
Charles Dickens presents a topical chat show about different jobs in Victorian times. We meet Nelly Trent who interviews children with the nastiest and worst paid jobs in town, and explore how these children will do anything to avoid starvation. We meet John Lobb who works as a mudlark on the banks of the river Thames, digging through mud, trying to find materials such as coal, iron, copper and rope. We also meet Sally Dunlop who works on the street selling watercress. She explains how she can sometimes earn enough money, in one day, for a pint of milk. She also talks about how lucky she is that she has a pair of shoes. Both of these children talk about the temptation of stealing in order to stay alive. Finally we meet a 9 year old girl who works as a 'pure' finder. She walks around collecting dog muck, which is later used to rub into leather. She also speaks about the tricks she uses to make the most of what she has collected.
Available since: Thu 22 Nov 2012
This clip is from
3/4 Charles Dickens and reforming peer Lord Shaftesbury discuss child labour.
First broadcast: 29 Mar 2012