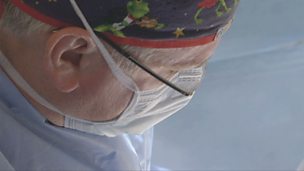 Lucy - Breast Augmentation Operation
Duration: 01:24
Lucy's surgeon, Mr Chris Inglefield is performing the breast augmentation surgery. He makes incisions under the breast so that Lucy's scars are hidden as much as possible, he must then create space in Lucy's chest cavity for implants, without affecting any of the sensitive nerves. Using computer graphics we travel inside Lucy's breasts to see what nerves are in the breast and the importance of them for breast feeding. When Mr Inglefield is ready he inserts Lucy's implants, being careful to ensure they do not touch the skin to minimise any chance of infection. This clip contains graphic scenes of cosmetic surgery.
Available since: Tue 20 Nov 2012
This clip is from
Documentary exploring the science behind the most popular beauty and cosmetic treatments.
First broadcast: 27 Nov 2012