Karen Edwards: I want to meet my daughter's killer
The British mother Karen Edwards reveals why she has asked to meet the man she believes killed her daughter Becky Godden Edwards. Becky went missing from home in 2002, after spending her teenage years battling an addiction to heroin. But the man who confessed to her murder cannot be tried because of a failure in police procedure.
Also, Jose Angel Salazar is just 14, but is in charge of up to 80 musicians in the Youth Orchestra of Nueva Esparta in Venezuela. He's believed by many to be the youngest conductor in the world.
And more Outlook listeners share their favourite lullabies.
Picture: Karen Edwards (right) with daughter Becky aged 12.
Last on
Tue 11 Dec 2012
12:05

GMT
Jose Angel Salazar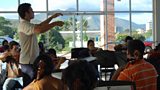 The Venezuelan teenager who's thought to be the world's youngest orchestral conductor
Picture: Jose Angel Salazar with the Youth Orchestra of Nueva Esparta