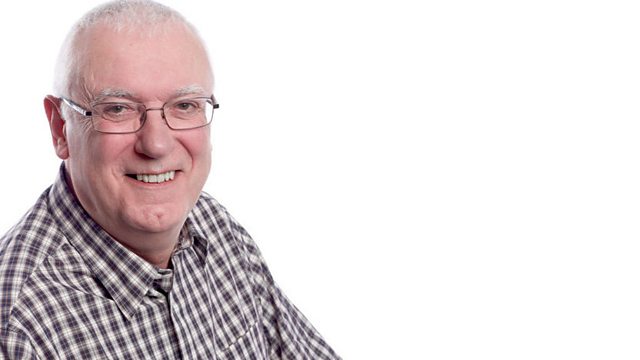 The Cartridge Years: 1967, 1987 and 1994
There's another chance to hear Richard's chat with the late Sir Patrick Moore from 2003
Last on
December 1967
RMS Queen Mary arrived at Long Beach, California to begin life as a floating hotel.
The Hovercraft SRN4, the worlds biggest hovercraft was undergoing tests on the Solent.
Dr Christian Barnard carried out the worlds first heart transplant on Louis Washkansky in South Africa.
Demonstrators marched on New York to protest against Vietnam War recruitment.
A BOAC pilots strike resulted in the cancellation of many flights.
Health Ministers were empowered to prevent people entering agricultural land due to an outbreak of Foot & Mouth disease.
Seven year-old Emmanuel Malliart was kidnapped outside a school in Versailles, France.
The Helicopter of the Queens Flight crashed near Newbury, killing the pilot and three passengers.
Floods in Malaysia caused by monsoon rains resulted in 5,000 homeless and the possible evacuation of 500,00
Students marched through the streets of Delhi to protest against the government moves to retain English as an official language alongside Hindi
There were delays on the rail network after railway workers started a 'work-to-rule'.
December 1987
An Annibale Carracci painting was bought for £5 nearly 60 years ago, was been sold by a Dorset woman for £847,000.
The old propellors from 'Q.E.2' were cut up, melted down and used to make golf clubs costing about £1,000 per set.  John Andrews reported for BBC south
The 'Island Pine' factory at Cowes was reduced to ashes after fire broke out.
Lecturers demonstrated outside Hants County Council offices striking about pay.  
'Esso' denied newspaper reports that 20 S.A.S. men raided its Fawley refinery to test its vulnerability to terrorist attacks by leaving "calling cards".
RFA ship 'Sir Galahad' received her predecessor's Falkland Conflict honours at Marchwood Military port.
The England Cricket team's tour of Pakistan caused controversy after England Captian Mike Gatting got into a dispute with umpire Shakoor Rana.
Mikhael Gorbachev was in Washington for a summit with President Reagan.
44 people aboard the British aerospace 146 died when the plane crashed after the pilot reported gunfire in the passenger cabin.
Ian Brady was taken back to the moor to confirm that all areas had been searched for the body of Keith Bennet
Sheila McCarthy made a TV appeal for release of her son John who was taken hostage. 
December 1994
The M3 through the Twyford Gap finally opened after 20 years of conflict over one of the Uk's biggest road building projects.  
Peter Kite, the Managing Director of the activity centre company which organised the Lyme Bay canoeing trip in which four teenagers died was convicted of manslaughter and jailed for three years.
Saints plans for an all-seater stadium at Stoneham was turned down 24 hours after Pompey's had similar plans at Farlington turned down.
The Duke of York opened a £23 million terminal at Southampton Airport.
Dorset's Ambulance Trust was attacked for not responding to Emergencies fast enough.
The Needles lighthouse went to automation after 140 years of having a lighthouse keeper.  Southern Electric announced it was shedding 900 jobs blaming increased technological efficiency.
Managers at the IBM plant in Havant announced plans to buy the business from it's owners, ending the uncertainty for 2,000 workers.
The Royal Fleet Auxillary ship Sir Geraint was back in the Itchen after repairs to it's bow doors in Dover.
A UN humanitarian aid convoy carrying 90 tons of emergency food arrived in the besieged Muslim enclave of Bihac, Bosnia.
The Prime Minister told Conservative MPs to stop squabbling and support him.
Fifteen people were injured when a man attacked shoppers and staff with a knife in Rackhams Department Store in Birmingham
Chancellor, Ken Clarke announced rises in the cost of petrol, tobacco and alcohol in a mini budget.
A European Union Summit in Essen put the expansion of the European Union, at the top of the agenda.
A Channel tunnel train had to be evacuated when the engine of a car being loaded onto the shuttle caught fire.
Richard Gott, a leading journalist from the Guardian resigned after allegations that he was a KGB agent during The Cold War.