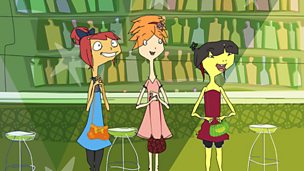 Disco
Duration: 11:49
Lara (12) is over the moon when Marc invites her to an under 18's disco. She convinces her host mum to let her go, on the condition that Lara will phone her when she arrives at the disco and when she gets on the last bus home. Meanwhile, Gabriel (13) and Tony (13) are upset that the girls have ditched them for a disco, especially as they'd already agreed to spend the evening skateboarding. Then boredom sets in and they realise there is no reason they can't go to the disco too. At the disco Lara finally sees Marc, and is so besotted that she completely forgets to call her host mum. Lara is desperate to get to know Marc better so she persuades the girls to stay at the party longer than they should. Finally Lara agrees to leave the disco only to discover they have missed the last bus home. Thankfully they find Tony and Gabriel, concerned about the girls, waiting for them at the bus stop. With no other option they phone Lara's Host mum to come and pick them up. Back at home Lara realises she has let her host mum, and her friends, down and vows not to forget about her responsibilities in the future.
Available since: Fri 16 Nov 2012
This clip is from
The girls are allowed to go to the disco as long as they promise to phone home.