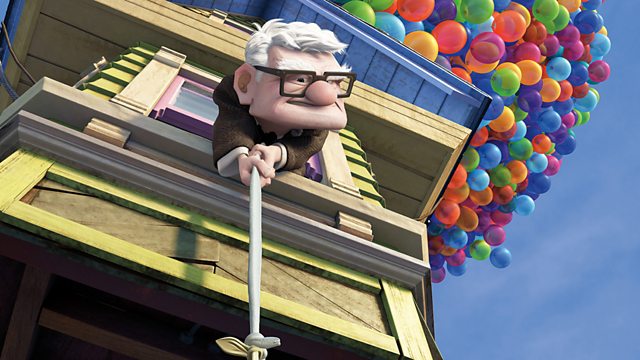 Up
Animation telling the story of 78-year-old Carl, who ties thousands of balloons to his house and floats off to South America to fulfil his lifelong dream. Only when he is up in the air does he realise he has taken onboard a hitchhiker - an eight-year-old boy scout who was knocking at his door at the time.
Featuring the voices of Edward Asner (Carl Fredricksen), Christopher Plummer (Charles Muntz), Jordan Nagai (Russell), Bob Peterson (Dug/Alpha), Delroy Lindo (Beta), Jerome Ranft (Gamma), John Ratzenberger (Construction Foreman Tom), David Kaye (Newsreel Announcer), Elie Doctor (Young Ellie), Jeremy Leary (Young Karl), Mickie McGowan (Police Officer Edith) and Danny Mann (Construction Worker Steve).
Up on BBC iPlayer
This programme is not available on BBC iPlayer. Programmes are unavailable for a number of reasons including technical problems, legal or contractual issues or because we do not make all of our content available on BBC iPlayer.
Credits
| Role | Contributor |
| --- | --- |
| Director | Pete Docter |
| Director | Bob Peterson |
| Writer | Pete Docter |
| Writer | Bob Peterson |
| Writer | Tom McCarthy |