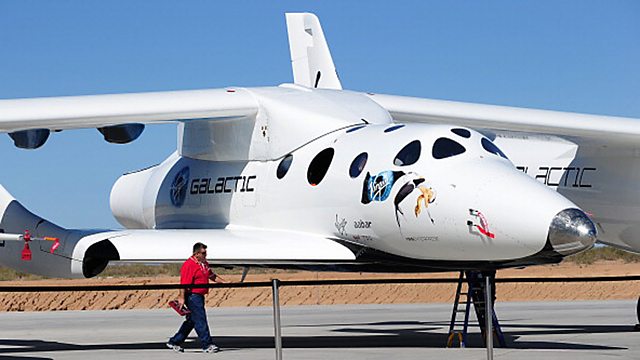 American Geophysical Union
Highlights from the AGU Annual Meeting
Jonathan Amos brings the highlights from the world's biggest scientific gathering of Earth and planetary scientists, the Annual Geophysical Union meeting in San Francisco.
NASA announces that they are sending another rover to Mars in 2020. Building on the successful landing and design of Curiosity, they hope the new rover will be able to explore even more interesting locations on the red planet, looking for evidence of life.
Virgin Galactic's SpaceShipTwo will not just be for millionaire space tourists. They say they can make room for a scientific experimental payload. The benefits over other space exploration, is the quick turnaround of the flight schedule, and region it flies through which is ideal for looking at the little studied region 100 km above the Earth. (Photo credit: AFP/Getty Images)
Smart phones can be used to detect seismic activity. Scientists have designed an algorithm to cancel out the phone-owners movement and allow it to detect shaking caused by earthquakes.
A study looks at whether seabirds are adapting to retreating marine ice, caused by climate change, by changing their diet. The Black Guillemots live on a tiny spit of land just off Point Barrow off the coast of Alaska, in the Arctic, and have been studied for over 40 years.
Birds use cigarette butts to repel parasites
House sparrows and house finches in Mexico have adapted well to living in urban areas. Scientists studying the material composition of their nests found a large proportion of shredded up cigarette butts. Tests have shown that these are probably used to deter parasites, like ticks and lice, which can harm the birds. But the toxic effects on the birds from the chemicals in the cigarettes are still to be established.
This week's programme is presented by Roland Pease
Last on