Morning sickness
MORNING SICKNESS
We probably all know now that the Queen's grandson, William, and his wife Kate are expecting, and that Kate has been admitted to hospital with severe morning sickness. People often say morning sickness is a sign that a woman is expecting a baby girl because it is caused by surging hormones. But is that right? Pat O'Brian, consultant obstetrician at University College London, sets the record straight.
UGANDAN AND UK MATERNITY CARE
Globally, more than 350,000 women die in pregnancy or childbirth every year, usually because they do not have access to basic medical care or trained staff to help them deliver. Most of these deaths are avoidable and the majority occur in sub-Saharan Africa, where a woman's risk of dying is one in 30 compared to less than one in 5,000 in the developed world.
Esther Madudu is a Ugandan midwife and alongside Africa's leading medical charity AMREF, is campaigning for an extra 15,000 African midwives by 2015 in a bid to drive down the maternal mortality rate. At the Royal London hospital, she talks about the differences between maternity care in the UK and Africa with head midwife Sandra Reading and Samara Hammond, chief executive of AMREF UK.
THE DILEMMA OF GENETIC TESTING
Breast cancer is a leading cause of death among women. Some of these tumours are caused by inherited genes, like BRCA1 and BRCA2, which you can be tested for. The decision whether to have the test is deeply personal, as Sheeba Arif, a young woman in the US, tells Health Check.
BREATH TEST FOR BOWEL CANCER
One of the top five cancer killers is bowel cancer, but the current screening method is not ideal, so researchers from Italy have been working on a new breath test that is more accurate and less invasive. Dr Donato Altomare, from the University of Bari, is the lead scientist.
(Image: A woman leaning against a tree. Credit: Getty Images)
Last on
Michelle Roberts stands in for Claudia Hammond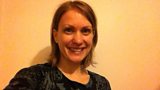 Michelle Roberts