Rohingyas who fled violence in Burma
The United Nations says the Rohingya group who live in western Burma are one of the most persecuted minorities in the world. The Rohingya are Muslims and there has been long-standing tension with the Buddhist majority in the Rakhine region. On today's programme, Outlook's Rebecca Henschke meets 28-year-old Khairual, one of many Rohingyas who fled from Burma to escape the turmoil. He now lives with other refugees in Malaysia.
Micki Glen and her husband Mike are keen scuba divers with a passion for photographing sharks. But, in 2002, on a diving trip to the Caribbean, things went terribly wrong. A seven foot long female shark attacked Micki, causing her horrendous injuries. She tells Matthew Bannister how she managed to survive the attack.
And, as the BBC World Service prepares to broadcast two documentaries about lullabies and how they can prepare very young children for language, we listen to some lullabies from Morocco and from Bollywood.
Picture: Rohingya refugees escape Burma by boat to Malaysia
Picture credit: STRDEL/AFP/Getty Images
Last on
Micki Glenn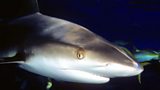 The female grey reef shark that attacked Micki Glenn as she was scuba diving in the sea off the Turks and Caicos islands. Micki Glenn's story is included in a new book called Surviving Survival by Laurence Gonzales, publisher: W.W. Norton