I survived a serial killer's attack
Rose Steward, the Californian woman who talked a rapist out of killing her by pretending to be in love with him. With her attacker on Death Row, we hear why she's campaigning against capital punishment.
Also, we meet Satoru Arishiro, the Japanese policeman turned unofficial zookeeper.
Picture: Rose Steward Image credit: Henry Young
Last on
Satoru Arishiro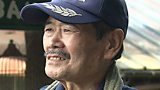 The retired Japanese policeman who started his own zoo for injured and abandoned animals
Picture: Satoru Arishiro      Credit: Kansai Telecasting Corp