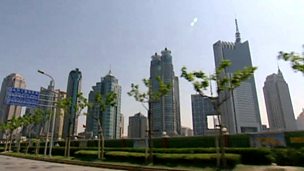 Laid-off gardener Wu Zhongliang turns to catering to make a living (pt 1/3)
Duration: 02:57
While Shanghai boasts of being China's economic miracle, redundancy has reared its ugly head. The country's market-driven economy has forced many a state-owned enterprise to close down. Laid-off workers now have to learn to fend for themselves and start up their own businesses. We meet Wu Zhongliang, once a gardener, now turned caterer, who has employed former co-workers made redundant like himself, to prepare and deliver meals to the city's joint venture companies. Although the workforce are inspired by team spirit and the need to survive, their lack of skills and education means it's been a steep learning curve for Wu and his co-workers.
Available since: Thu 8 Nov 2012
This clip is from
Pudong's skyscrapers are for many a brash symbol of Shanghai's new Western prosperity.