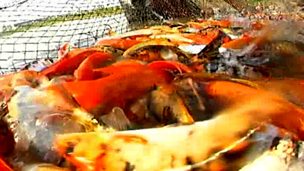 Industrialisation of rural Shaxi (pt 3/3)
Duration: 03:11
Contrary to 'collective farming' under the old communist system, China's rural reforms have meant that Shaxi's farmers can now be more entrepreneurial. Some are going into the service industry, supplying luxury fruit and decorative fish for metropolitan Shanghai and foreign clientele. Communist Party Secretary Gao wants to go a step further and develop Shaxi into a satellite town for the Shanghainese by building elegant country dwellings and refurbishing the old quarter. If Shaxi is successful in changing its landscape for the better, it may well become a blueprint for the transformation of other rural communities and Party Secretary Gao will go down in local history as a pioneer and innovator.
Available since: Thu 8 Nov 2012
This clip is from
Communist party secretary Gao sees the future of his country in new industries.