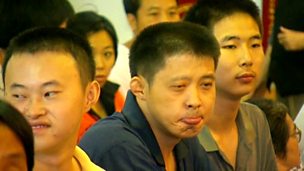 The White Horse Printing Press offers hope to the disabled in Chengdu (pt 2/3)
Duration: 05:34
We meet more workers at the White Horse Printing Press and hear about their problems and anxieties. Cai Zhiying supervises deaf workers and explains how frustrating it can be when they get things wrong. Xiao Xia and husband Xiao Feng have other worries - that they may be made redundant unless business picks up at the printing press. Mama Chen is the most concerned of all. The factory has invested in a new colour machine to attract more customers, but business is still slack and she cannot imagine what will happen to her disabled workers if the printing press is faced with closure.
Available since: Thu 8 Nov 2012
This clip is from
Looking at a privately run collective employing disabled people.