Taiwanese Film
Golden Horse Awards
As Ang Lee is helping to put Taiwan back on the filmmaking map with his new film Life of Pi, we discuss the winners and losers of the Chinese-language Oscars at the 49th Golden Horse Awards held in Taiwan.
Chinese Satire
Writer and broadcaster Linda Kennedy has been watching what she sees as small but significant signs that mainland China's experimenting with new forms of comedy both in social satire and political humour.
Wangechi Mutu
Kenyan Wangechi Mutu is a former Deutsche Bank Artist of the Year and her latest exhibition in Los Angeles features video, sculpture, and a range of disturbing collages. It's called Nita-rudi Nina-rudi - or I Plan To Return, I Am Returning and explores her notion of home after living in the US for more than 20 years.
Photo: AP/Lee Jin-man
Last on
Tue 27 Nov 2012
12:32

GMT
Wangechi Mutu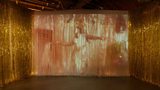 Installation image of She Seas Dance. Photo by Robert Wedemeyer.