Humans and Big Data: Who is in charge?
Are computers now so adept at handling previously unimaginable amounts of data that a meaningful partnership can open between human and computer brain? In this week's Forum Carrie Gracie discusses the shared journey ahead with Aldo Faisal, a neurotechnologist bringing engineering expertise to the study of the human brain; Larry Norton, a cancer specialist harnessing a supercomputer to diagnosis and treatment; and statistician Patrick Wolfe trying to keep humans on top in a world of dizzying digital data. Illustration by Rosemary Baker.
Last on
Sun 25 Nov 2012
02:05

GMT
Patrick Wolfe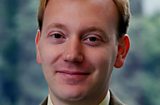 Patrick Wolfe is Professor of Statistics and Computer Science at University College London. He explains why current attempts to build computer-based baseline of 'normal' human behaviour on the basis of Big Data may turn out to be similar to what happened with standartisation of physical goods in the Industrial Revolution.
Aldo Faisal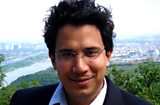 Aldo Faisal runs a neuro-technology lab at Imperial College in London. One of his aims is to find better ways to use the genius of nature in technolofy: he is especially interested in the way our brains cope with the high level of noise in the electrical signals that make the human body work. Could we build better computers based on this?
Larry Norton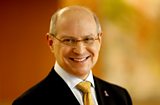 Larry Norton specialises in breast cancer at the Memorial Sloan-Kettering Cancer Center in New York and is one of the leading medical experts involved in turning a supercommputer, IBM's Watson, into a useful diagnostic tool. How far will regular interaction with medically 'trained' intelligent machines transform the practice of medicine?
60 Second Idea
Patrick Wolfe proposes that we build a Citizen Supermachine.  This would be the ultimate crowdsourcing project, requiring input and expertise from peoples all across the globe, and several orders of magnitude more comprehensive, accurate and powerful than current online encyclopaedias.  Once this machine was built, anyone could create a copy with just a few racks of servers and some disk drives.
In Next Week's Programme
Canadian writer Margaret Atwood chairs a discussion at the Royal Society for the Arts in London about how to balance the needs of individuals against those of the society as a whole, with Chinese film-maker Sun Shuyun, American sociologist Craig Calhoun and Kenyan psychiatrist Frank Njenga.