Africa's Great Tech Ideas
Africa's great tech ideas may only be a click away after Demo Africa. Plus, expectant parents have a chance to 3D print models of foetuses and meet the non-stop camera that records your whole life.
(Image: The Demo Africa tech fair. Credit: Getty Images).
Last on
DEMO Africa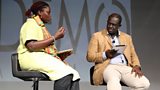 DEMO Launchpad is a premier tech event which takes place yearly in Silicon Valley to give a potential boost to promising new tech companies. This year it has also focussed on Africa for the very first time.  Bright and ambitious technophiles headed to Nairobi to pitch their digital dreams.  Click's Nisha Ligon reports on the launch of these African showcases.
(Photo: Marieme Jamme, social entrepreneur and CEO of SpotOne Global Solutions, gives her views on the technologies presented at DEMO Africa - credit: Nisha Ligon)
3D model of a foetus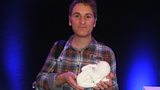 Expectant parents now have a new tool for potentially bonding with their new offspring weeks before the baby actually arrives.  In recent years, eager parents, keen to get an early sighting of the development of their child in the womb, have embraced the technology of ultrasound scans with their beautiful but blurry images.  Now they have a chance to actually hold a life-sized model of the foetus.  This is as a result of the merging of two technologies, medical scanning and 3D Printing.  Jorge Lopes of the National Institute of Technology in Rio de Janeiro is an expert on 3D modelling, not just of pre-natal humans but also of the fossilised remains of creatures from the past.  He discusses the brave new world of 3D printing with Gareth Mitchell and Bill Thompson.
Memoto: Lifelogging
It's a camera with no buttons or on/off switch.  As long as you wear the camera, preferably around your neck, it will take a geo-tagged photo every thirty seconds.  The orientation is also recorded so that the app can show them upright no matter how you are wearing the camera.  There is also no need to worry about inclement weather as it's weather-protected.  The system is called Memoto, and its camera and app work together so that you will have pictures of every single moment of your life.  But is it desirable?  And what about those in your vicinity who don't want their picture recorded?  Memoto's Oskar Kalmaru joins Click to discuss how we might all one day have a complete pictorial record of our lives.