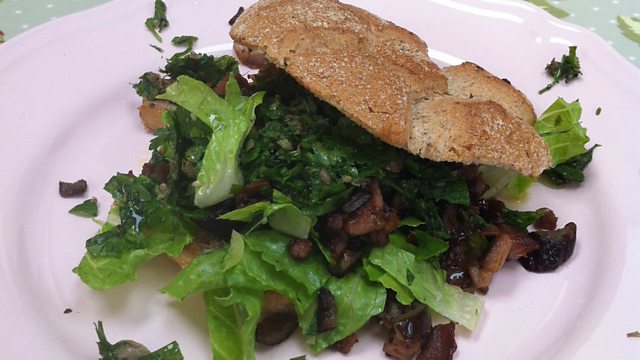 Foody Friday: Crispy Leftover Lamb with Chopping Board Salsa Verde
This recipe is totally delicious and a perfect way to use up roast dinner leftovers. It works particularly well with lamb, but you can substitute it for any roast dinner meaty leftovers.
Serves 2
2 handfuls cold lamb with fat left on
1 handful flat leaf parsley
1 handful fresh mint
1 handful capers in brine (rinsed)
Olive oil
2 ciabatta rolls
1 handful crispy lettuce
Salt and pepper
Optional mayo
From Penny: "This recipe is in my opinion one of the quickest and most rewarding ways to use up some roast dinner leftovers. It's extremely forgiving, hence no specific measurements, just handfuls. As long as you use the same size hand throughout, you can't go wrong!"
1. Put a frying pan on a high heat with a tablespoon of olive oil.
2. Chop your lamb into little pieces and then fry until crispy (takes about 3 minutes). Keep stirring as they have a tendency to burn quickly.
3. Remove the lamb to a bowl.
4. Now roughly chop your herbs and capers and season with salt and pepper and a splash of olive oil. The capers are salty so take care not to over season.
5. Next halve your rolls and pop them into the lamb pan and toast lightly taking care they don't catch.
6. Shred some crispy lettuce and get your mayo ready.
7. Spread your warm rolls with some mayo on the bottom half, top with crispy lettuce, then your crispy lamb and finish with lashings of salsa verde.
8. That's it, how simple is that. You'll be rewarded within 15 minutes with the best Monday night leftover snackette you've had in ages!