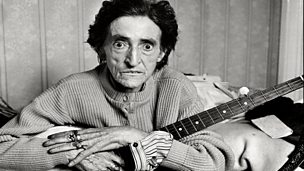 Solas Ó Ré Eile
Duration: 06:52
Labhraíonn an grianghrafadóir Jim Maginn & an ceoltóir & craoltóir Neil Martin faoi thaispeántas grianghraif "Solas Ó Ré Eile" atá curtha le chéile ag Jim. Is iad ceoltóirí traidisiúnta ábhar an taispeántais.

Photographer Jim Maginn & musician & broadcaster Neil Martin introduce us to an exhibition of Jim's photographs of traditional musicians entitled "Light From Other Days.
This clip is from
Stories, discussion, news and more, presented by Lucinda Glynn.
First broadcast: 11 Oct 2012