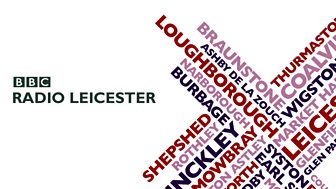 Clueless
The clue-based treasure hunt puts you in the driving seat. Challenge your local knowledge.
Clueless
The clue-solving treasure hunt which challenges your local and general knowledge and puts you in the driving seat each Sunday 9-12 noon.

Tony Wadsworth and Julie Mayer have less than 3 hours to find the cryptic clues hidden across Leicestershire and Rutland... and, with a bit of luck, the final piece of treasure! Can you help them?
Julie, in the radio car with driver Dale, has no navigational aids. No Sat Nav...no access to the internet or text messages...not even a map! Tony is studio-based and similarly isn't allowed to see any text messages or emails. He is allowed a map but his map-reading skills are frankly not great! 
Neither know where Julie will be heading-off to from the starting point after the first clue is revealed. What happens from then on is up to you! Your calls to mission control on 0116 251 1049 might steer them in the right direction...or send them off on a wild goose chase!
Help them to crack the cryptic clues set by the dastardly "Doctor" - because without you, they will be "Clueless"! 

Tony Wadsworth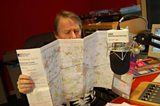 Tony was born in Leicester, and worked for a time in his family's business, before getting into broadcasting. His credits include long stints at both BBC Radio Leicester, and BBC Radio WM, where he was appointed Programme Organiser and joined the management team in 1991.
In the mid-eighties he appeared in three pantomimes at De Montfort Hall Leicester with Larry Grayson, Ian Lavender and Bernard Bresslaw.
Tony devotes some of his personal time raising funds for charities performing with the band he founded in 2007 as part of BBC Radio Leicester's fortieth anniversary appeal. The band evolved into a Beatles tribute act known as The upBeatles which has so far helped raise more than £160,000 for more than sixty charities.
Awards include a Sony award for the Best Local Radio Programme, a Gillard gold award for the Best Daytime Programme, a Gillard silver award for the reality radio soap series: The Street, and a Gillard bronze award for The Street Party. He holds an Honorary Degree of Doctor of Letters awarded in 2012 by De Montfort University Leicester in recognition of his services to broadcasting and to the Leicestershire Community.
Tony can now be found, alongside his wife Julie at BBC Radio Leicester. Saturday and Sunday mornings from 9am.
Julie Mayer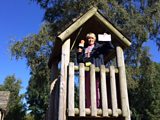 Julie's flair for 'showbiz' was evident from an early age, appearing in pantomime while still at school and later dancing at the now legendary Bailey's night club in Leicester.
Julie then fatefully entered into the world of theatre where she was employed as a seamstress making costumes at the National Theatre in London, eventually returning to the Haymarket Theatre in Leicester where she met her match: Tony!
Tony had popped in one day to hire a costume for a Radio Times photo-shoot and came away with more than he bargained for: A kindred spirit, co-presenter and ultimately, a wife!
Julie has contributed to both local and national radio also TV appearances which include 'Children in Need' and 'The Heat is On' for BBC 1. Together with Tony, she has won several awards, ranging from the promotion of space science to the raising awareness of disabilities.
Her radio assignments have led to her reputation as a bit of a 'go anywhere: do anything' daredevil partaking in some wild activities - including wing-walking! Perfectly suited then for the treasure hunt of the airwaves: "Clueless"!
Could you help the Dastardly Doctor?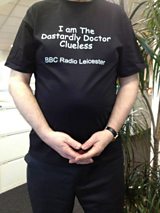 If you've got a great idea for a Clueless clue location in your town or village and you'd like to place a clue there for us one Sunday morning, then why not get in touch? We can't guarantee to use your suggestion, but the Dastardly Doctor is always on the look-out for new places to put clues! You can e-mail the Doctor on clueless@bbc.co.uk
Clueless on Facebook
Clueless has its own dedicated page on Facebook, where you can join in with the debate over the clues every Sunday morning and post your suggestions for what the answers are and where the radio car should be heading next. Although Tony and Julie have no access to the internet so can't read your suggestions. You can also share your passion with fellow fans of the show, and catch up with all the latest news about the programme.