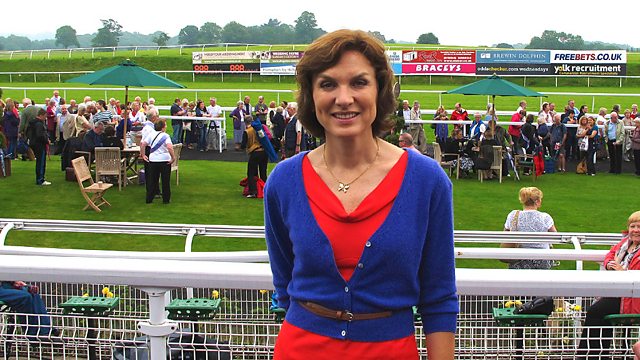 Fiona Bruce and the team head for the races as they arrive at Chepstow Racecourse in Wales. Family treasures featured include medals from early Olympic Games, awarded when tug-of-war was a competing sport, a light bulb containing a painstakingly made model of Lincoln Cathedral gifted by a German prisoner of war in World War II, and perhaps the oddest and one of the oldest pieces of glass ever featured on the programme, which excites curiosity for its near-perfect condition over three hundred years after it was made.
Last on
Basic, better & best - Treen nutcrackers
At Chepstow racecourse, Adam Schoon set Fiona the challenge of working out which of these three wooden nutcrackers is the basic, worth £300, which is better at £3,500 and which is the best and worth an incredible £6,500.
What is treen?
Treen is simply a term for all sorts of small objects made from wood (i.e. from a tree). These are usually functional household objects and can encompass anything from a bowl, to a snuffbox, to candlesticks.
What should you be looking for?
One of the most important factors is age. These objects were made to be used so a lot of the earlier examples simply didn't survive. As a result, the older pieces are much rarer and will fetch higher prices. Some treen will be dated which does help, but not all of it is. In that case you've got to look closely at the wood; if it's old there should be wear and tear. Any sharp edges would have been smoothed down and as it's been handled, the surface of the wood will have absorbed all the oils from the skin and developed a patina. These are all really important things to a collector.
Other things to look out for are the style of the carving and the type of wood used.
So which is which?
Basic – This piece looks like it could be the oldest but in fact it's a late 19th Century English reproduction, made to look older. You can see that there are still some sharp edges and it's been falsely polished to look like it's got a patina. This would be worth about £300.
Better
- Like the Basic one, the Better nutcracker was made in England - you can tell by the flat nose on the face. However this one was made much earlier, around 1720. It's made from Boxwood which is an extremely hard wood, making it very difficult to work with – although ideal for a nutcracker! A lot of the detail of the design has remained but you can still see that it's mellowed and become more rounded over time. It's also the face of a woman which makes it rather unusual. All these factors combined, it's worth about £3,500.
Best – This nutcracker is the oldest, dating back to around 1575. At that time nuts would have been a real luxury so this would have been made for the upper echelons of society. It's also made from boxwood which has helped it to survive to long. It's beautifully carved and has a wonderful patina where it has been handled and used for many hundreds of years.
Did you know?
A nutcracker almost identical to the best one, except that it was dated, sold recently at auction for over £16,000!
Credits
| Role | Contributor |
| --- | --- |
| Series Editor | Simon Shaw |
| Presenter | Fiona Bruce |
| Producer | Michele Burgess |