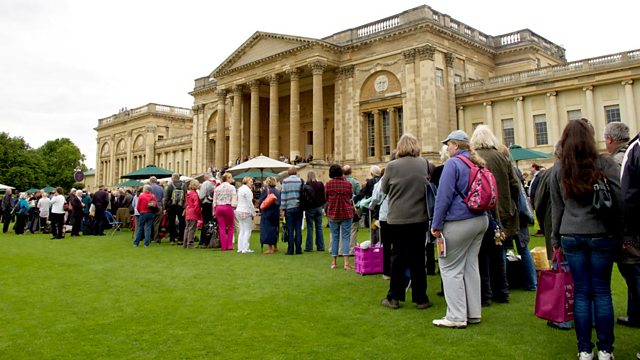 Fiona Bruce and the team travel to the newly restored Stowe House in Buckinghamshire, once one of the grandest houses in the country.
Last on
More about portrait miniatures
At the Stowe House Roadshow, picture specialist Philip Mould, set Fiona the unenviable task or working out which of these three portrait miniatures is worth £150, which is better and worth £7,500 and which is the best and worth a staggering £65,000.  
More about miniatures
Initially, miniatures were painted to illustrate hand-written books. You might be surprised to know that it's not the size of the picture that defines it as a miniature; the word actually comes from the Latin word 'miniare' which refers to the red lead that was used as colouring in these early manuscripts illustrations. 

Portrait miniatures first appeared around 1520 in the English and French courts, but became really popular in the 18th Century. They are far more intimate and personal than large portraits that hang on a wall. They can only really be seen properly by one person at a time and they are often held in the hand or close to the body. It allows you could carry the image of a loved one wherever you go. 

What should you look for?
The rules are similar to other artworks. The name is important – that is the name of both the artist and the sitter. If they are well-known, the value is likely to be higher.  The quality of the painting is also paramount and how attractive the image is will make a difference. Most buyers would rather have an image of an attractive woman that a rather miserable or plain looking old man. 

So which is which?
Basic – This portrait of a gentleman in a green coat dates from the 1760s. The reason this isn't worth a huge amount of money is because it's by an amateur artist; we know this because it's painted on vellum. By the 1760's ivory had replaced vellum as the best medium for miniatures so it's very unlikely that a commercial artist would have presented a miniature this way. We also know that portrait miniatures were often painted by 'gentleman amateurs' as an 'improving' leisure pursuit.

Better – This portrait is by Richard Cosway who was the leading miniaturist of the late 18th Century. It is a portrait of 2nd Earl Spencer as a young boy and was likely worn by his mother on her wrist when he went away to school. So this portrait has a known name with both the artist and sitter so is worth £7,500.

Best - This is dated 1719 and is one of very few contemporary portraits of Peter the Great. Peter the Great was obsessed with the idea of Westernising Russia and when he saw these enamel miniatures being produced in Europe he decided he wanted his own, so he took on a man called Gregory Musikisky. The really special thing about this portrait miniature is not that it is in enamel but that it is painted on vellum- in fact it's the only remaining example of this artist painting a portrait of Peter the Great on vellum. Only a handful of Musikisky enamels exist and they are nearly all in Russian museums, so a great part of the value of this miniature lies in its rarity – it is an amazing survival from this period and collectors would pay £65,000 for it. 

Did you know? 
Vellum is a parchment, originally made from the skin of a calf.
Credits
| Role | Contributor |
| --- | --- |
| Presenter | Fiona Bruce |
| Series Editor | Simon Shaw |
| Producer | Michele Burgess |