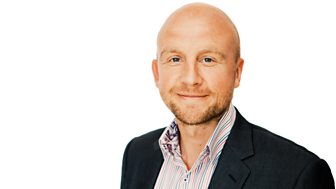 Ben Prater
Join Ben Prater on BBC Wiltshire.
About the programme
Join Ben for a spot of BBC Wiltshire Breakfast every weekday from 0630.
Turning 40 but looking 50 after four years of early alarm calls, Ben's equally at home grilling politicians in Westminster, throwing street parties in Chippenham or meeting bald lambs in Ramsbury.
There's always plenty of calls, texts and tweets from you at home with Ben getting stuck into the everyday things that matter to you.
Originally from Bristol, Ben lives in Malmesbury with his wife Sally Ann, his three young children Charlie, Mia and Archie, his dog Humbug and his cat Mighty Mac.
He loves running, rugby and a bit of cooking but knows he's now first and foremost a glorified taxi driver.