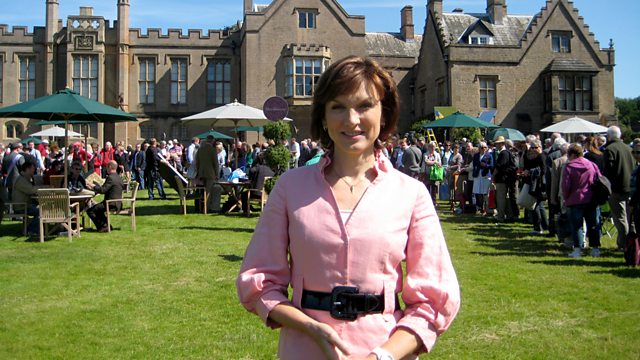 The team pays a visit to Lord Byron's former home, Newstead Abbey in Nottinghamshire. Fiona Bruce and the experts welcome two thousand visitors bringing their family treasures.
Objects featured in the show include a giant dog collar from Victorian days, a collection of early royal relics, rare tiles rescued from a fire, and boxing gloves once used by the young poet Byron. In a remarkable and moving moment, a painting of a strategically important battle in World War Two is brought in by the only man to have survived the conflict depicted.
Last on
More about vintage vinyl
In this episode we explained that the value of the example shown of the Sex Pistols' record Anarchy in the UK was in part derived from a production mis-credit which appeared on a small proportion of copies. We are happy to clarify that the production mis-credit referred to related to the song 'I Wanna Be Me' on the B-side of the record and not the A-side, which was produced by Mr Chris Thomas. We apologise to Mr Thomas for any confusion or embarrassment caused. 
At Newstead Abbey, Marc Allum brought in three vintage records and challenged Fiona to work out which was the basic, and worth £20, which is the better at £200, and which the best is and worth £500. 
So which is which?
Basic 
Hank Williams EP – this dates from 1955 so it's actually the oldest of the three. However it's just not in as high demand from collectors as the other two so only worth £20.
Better
Sex Pistols, 'Anarchy in the UK' – this is their first single from 1976. There are two things that make this more valuable; firstly it was a Promotional copy and there were only 5000 made. Also, one of the Producers was wrongly credited and this would have been altered for the next press - those are the kind of idiosyncrasies you're looking for. When you add into the mix that it's in good condition, collectors will pay at least £200 for it.
Best
Jimi Hendrix, 'Axis Bold as Love' – this is his second album from 1967. Jimi Hendrix is a huge name in music and his records are greatly collected. But there are two things that really elevate this; firstly it is a mono edition of the album which was later re-editioned in stereo. It also has the original inserts which are complete and in good condition.
What to look out for:
Rarity 
Was there a mistake that was later corrected? Is it in a different format? Was it produced on a different record label to later editions? All of these peculiarities can make a record rarer and therefore more valuable.
Condition
Vinyl isn't the strongest of materials and can be easily scratched or warp in heat. The condition of things like the cover sleeve and the inserts is also important and will affect value.
Popularity 
The popularity of the artist will also affect how desirable a record is to a collector. Artists such as Jimi Hendrix, Elvis and the Beatles will always be desirable.
Very valuable vinyl.
Marc brought in a pretty valuable record by the Sex Pistols but their single 'God Save the Queen' can be worth much more. The band was originally signed to A&M record label but shortly before the single was released they moved to EMI. Most of the singles were destroyed but a few remain and as they're so rare, they sell for upwards of £12,000.
However, the most valuable record has to be 'That'll Be The Day' by The Quarrymen - the band that later became The Beatles. It's thought that there's only one copy in the world and it's owned by Paul McCartney, so probably not much chance of finding that in your local record store!
Credits
| Role | Contributor |
| --- | --- |
| Series Editor | Simon Shaw |
| Presenter | Fiona Bruce |
| Producer | Michele Burgess |