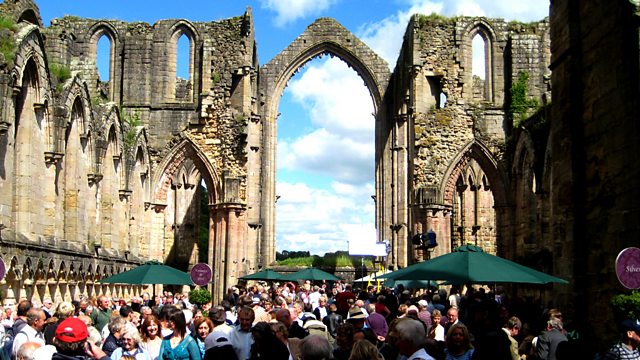 Fiona Bruce and the team travel to Fountains Abbey in Yorkshire. Amidst the ruins, thousands of visitors bring their precious treasures for appraisal by the experts.
Last on
More about vintage handbags
At Fountains Abbey, one of our new specialists, Ronnie Archer Morgan, set Fiona a challenge; to work out which of these three vintage handbags is the basic and worth £200, which is better at £1,000 and which is the best, worth £2,000
What to look for?
The first thing to look at is the style. How cool does it look? Does it have a real visual impact? These bags are a fashion statement, they're made to be worn and shown off so they have to look good.
It's also important to consider the quality of the materials and the workmanship. Look at things like the stitching, the lining and the type of material it's made from.
Finally, good condition is vital with vintage handbags.
So which is which?
Basic – This bag dates from the 1930s and is made from brown antelope suede which was the finest suede of that era. It's an attractive bag but the jewels are not real and although the frame looks like silver, it's actually base metal. So it's got the design, it's got the look, but it was made with affordable materials so it's worth about £200.
Better – This is a 1940s turquoise crocodile skin bag. This bright colour is very rare and really sought after by collectors. The condition is also fantastic and it's very stylish. However, as the maker is not a well-known name, the value would peak at £1,000. If it was by one of the big names (for example Gucci or Hermes), it would be worth significantly more.
Best – This was designed in the 1950s by Roberta di Camerino. It ticks all the boxes: great style; good condition; fantastic craftsmanship; rarity and a known designer. It would be worth at least £2,000.
More about Roberta Di Camerino
The fashion house, Roberta di Camerino was started by Giuliana Camerino in Venice in 1945. Camerino's colourful designs were in stark contrast to the plain brown and black leather bags common on this post-war era. Her designs were worn by huge stars at the time such as Grace Kelly and Elizabeth Taylor and more recently, Madonna. A lot of her early designs are said to have influenced the big fashion houses such as Gucci and Prada. When Camerino became upset at others copying her work, Coco Chanel reassured her "You must not cry now, you cry the day they don't copy you."
Did you know?
The most expensive handbag in the world is Mouwad's 1001 Nights Diamond Purse. Officially certified by Guinness World Records, this heart-shaped handbag was handcrafted from gold and 4517 diamonds and is worth a staggering $3.8 million.
Credits
| Role | Contributor |
| --- | --- |
| Series Editor | Simon Shaw |
| Presenter | Fiona Bruce |
| Producer | Michele Burgess |