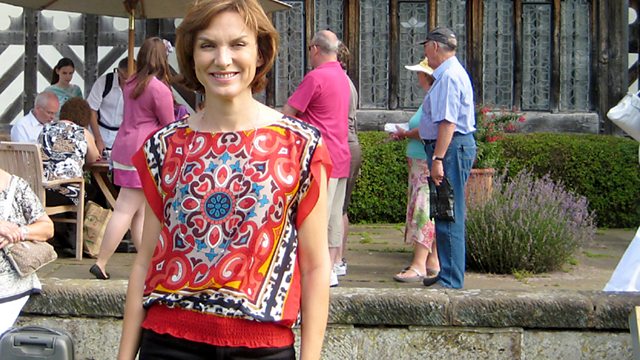 Fiona Bruce and the team travel to Wightwick Manor near Wolverhampton as they delve into thousands of family treasures.
Last on
More about bronzes
At Wightwick Manor, Paul Viney brought along three bronze figures. The basic is worth £50, the Better £500 and the Best £5,000.
What should you look for?
The first thing to check is that your bronze really is a bronze!
Bronze is made from a Copper alloy and it's very heavy and hard wearing. It also develops a patina over the years so look out for a green layer coating the surface.
There are many imitation bronzes around that are made from a zinc alloy called spelter and these will be much lighter and more brittle – although do also be aware that sometimes the bases of spelter figures will be weighted to make it feel more like a bronze. One quick test you could do at home is to make a small scratch on the base where it can't be seen. If it's bronze it won't make a mark but if it's spelter, you will see the scratch.
It's also a good idea to see if it's signed and dated; not all bronzes are but this can be a good starting point to find out how good it is.
Also, as with most antiques it's good to look at the quality of the work and to check that there's no damage.
So which is which?
(See picture gallery)
BASIC – The largest of the three figures is actually made from spelter. It is much lighter than the other two and the definition on the detail is not as good.
BETTER – The better figure is the small figure of a girl. We don't know who she is but we do know from the signature that this bronze dates from 1905 and is by Ferdinand Frick. Frick was an Austrian sculptor who is a recorded artist, but not particularly well known so it's worth £500.
BEST – This is General Charles Gordon. He was a legendary Victorian soldier who was killed during the siege of Khartoum in 1885, just two days before the British relief troops arrived. In fact he was so well respected by the British public that there is an 8ft model of this bronze on the Victoria Embankment in London. We can see from the signature that this bronze is by Sir William Hamo Thornycroft who was one of the best known sculptors of the day. So when you combine the important subject, the sculptor and all the history behind it, this bronze is worth £5,000.
Did you know?
In 2010 a bronze sculpture by Alberto Giacometti sold at auction for a staggering £65million. This 6ft tall figure named 'Walking Man' was produced in the early 1960s. It broke the previous auction record for a bronze which was held by Picasso's 'Boy with a Pipe'
Credits
| Role | Contributor |
| --- | --- |
| Series Editor | Simon Shaw |
| Presenter | Fiona Bruce |
| Producer | Michele Burgess |