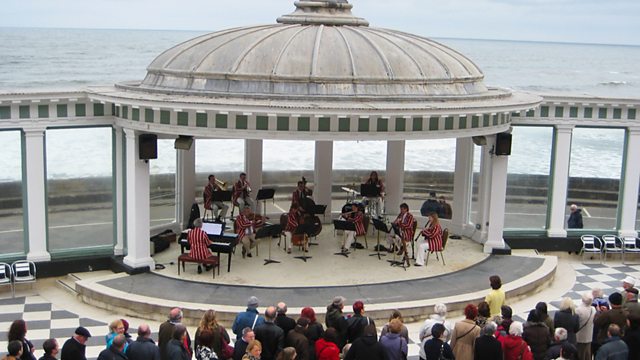 Scarborough Grand Spa Hall 1
Fiona Bruce and the experts arrive on the North Yorkshire coast at Scarborough for another day sifting through family treasures.
Last on
More About Swedish Glass
At Scarborough, Andy McConnell brought along 3 pieces of Swedish glass and challenged Fiona to work out which is the basic worth £100, which is better at £400 and which is the best, worth over £5000.
Swedish Glass
Swedish glassmaking didn't really come into its own until the 1920's. But when it got going, it really got going – in the post-war years Sweden was quite simply the world's greatest glassmaking nation.
So which is which?
(See picture gallery)
BASIC – This was designed by a woman called Runa Strand for the Strömberg factory, probably in the mid 1950's. Andy loves the shape of it but thinks the Scandinavian Moose engraving is a bit cliché. It's a fairly standard piece of glass and worth about £100.
BETTER – Next up in value is the glass with rather strange looking animals engraved on it. Andy likens them to cave paintings and loves the unusual, primitive nature of the beasts. It also dates from 1955 and is the work of a designer called Erik Höglund for the Boda factory. Andy bought it for about £350 but believes this is something worth holding onto – he wouldn't sell it for £1,000.
BEST – The best is the largest of the three bowls. It was designed in 1954 for the Kosta factory and the signature confirms its designer as Vicke Lindstrand. This piece is not only huge, but it's also very rare, the kind of thing you only really see in museums and books – only twenty of them are known. So because it's by a great designer, it's rare, it's big and it's so elegant, this piece is worth £5,000.
Vicke Lindstrand
With the exception of Rene Lalique, Vicke Lindstrand was the most important glass designer of the 1930's. He was a pioneer and really brought something new to the industry. He began as a book illustrator and that illustrative nature of his work is evident here.  He went on holiday to Kenya in the early 50s and brought those influences to his work.
Hoglund & The Boda Factory
Nowadays, Boda is a pretty well-known name but that wasn't always the case. When Hoglund joined in 1953 it wasn't creating much of note but fairly standard stuff like cut crystal sherry glasses. He was a sculpture graduate from the Stockholm College of Art and had never designed glass before, but within two years was winning awards. He was the 'enfant terrible' of Swedish glass; he was young, drop-dead gorgeous and his designs stood out head and shoulders from the crowd. This wild side really shows in his work, you can see from the strange beasts on the 'better' bowl that this wasn't your typical animal design. HÖglund was responsible for establishing Boda as the most important glassworks in Sweden post-war. He made glass less stuffy - the pieces didn't have to be perfect; they were much more primitive in design and as a result were more accessible to a wider range of people, most of whom had no previous interest in glass
Did you know?
Andy McConnell is such a huge fan of Swedish glass that he spends at least two months there every year.
Credits
| Role | Contributor |
| --- | --- |
| Series Editor | Simon Shaw |
| Presenter | Fiona Bruce |
| Producer | Michele Burgess |