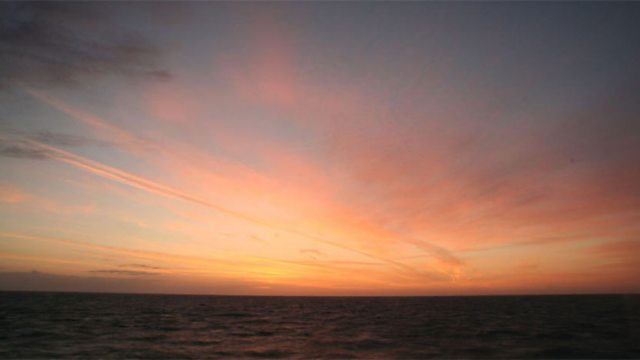 Thought for the Day - Rev Roy Jenkins - 06/10/2012
It was the news they'd most dreaded - a man arrested on suspicion of murder. 'It's the waiting that's killing us,' one of April Jones's distraught relatives had said earlier this week, but they'd willingly have gone on waiting indefinitely not to hear that their worst fears are likely to be confirmed. Most of us can barely imagine the agony of that family, their despair, anger, grief.
Machynlleth coped with its waiting by pouring out love: by joining police and rescue specialists in combing fields, woods, hillsides, river banks, until it was too dark to do more; by wearing ribbons of pink, the little girl's favourite colour; by decking homes schools, lamp posts, with pink, to say, ' We're with you.' I'm sure they will continue to be.
Candles were lit in churches, prayers offered in familiar liturgy and powerful silence. Each one expressed the fervent hope of the only result anyone wished to contemplate. And it hasn't happened.
Such praying - and it's been taking place right across the country - is in reality just about the only thing that most us can do at such a time. It links us with those going through terrible torment, enables us to do something on their behalf. It's a statement of our own powerlessness; yet it's also a cry of faith, however weak, to one who cares. Must we now believe that's no longer true?
In Welsh nonconformist chapels, children of April's age have for generations made their first faltering public performances by standing up and reciting one of the simplest verses in the Bible: 'Duw cariad yw' - God is love. Easy to assert, maybe; not quite so easy to hold on to when for any number of reasons life has become a trial, and the world around seems very dark.
I find great help in a hymn by Timothy Rees, a former Bishop of Llandaff. He wrote not out of some episcopal ivory tower, but from the experience of four years of horror as a chaplain in the first world war (for which he received the Military Cross), and ministered to the valley communities in South Wales in the thirties, when most men were out work and many struggling with acute poverty and actual hunger.
God is love, and he enfoldeth all the world in one embrace.
With unfailing grasp he holdeth every child of every race.
And when human hearts are breaking under sorrow's iron rod
All the sorrow, all the aching, wrings with pain the heart of God.
In Jesus, God allowed himself to become powerless for us. He shares the distress, and promises to be with us in it. So we go on praying for April's shattered family - that they will know that they are held by a Father who loves them.