Guilt
Do you have a guilty secret that keeps you tossing and turning at night? Or do you sleep easy with a clear conscience? The Forum's subject this week is guilt: how much does it affect the behaviour of individuals, families and entire nations? Joining Bridget Kendall this week are Australian novelist and author of Schindler's List, Thomas Keneally, Turkish historian Taner Akcam and Jordanian writer Fadia Faqir. Illustration by Rosemary Baker.
Last on
Sun 28 Oct 2012
01:05

GMT
Thomas Keneally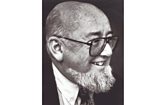 Guilt over the death of their mother drives the protagonists of Thomas Keneally's latest novel, The Daughters of Mars, to volunteer as nurses in World War 1 but the author warns that it can be easy for writers to become 'aficionados of guilt'. He also suggests that guilt can turn into a wellspring of altruism. 
Photo of Thomas Keneally copyright Sean Pollock.
Taner Akcam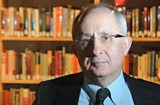 Taner Akcam is a Turkish historian, based in the US, who has focused on the highly controversial question of the mass deportations and killings of Armenians, Assyrians, Greeks and other groups of people in the Ottoman Empire during the First World War.  In his books he suggests that the first step towards dealing with collective guilt over a country's difficult past must be free and honest discussion about historical evidence.
Image of Taner Akcam courtesy of Princeton University Press.
Fadia Faqir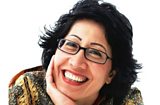 Looking back both at her four novels and her life, Jordanian-British author Fadia Faqir realised how prominent a role guilt played in them. Perhaps that's why one of her characters says: Paradise is a luminous white sheet without a single mark. It's a space where there is no guilt.'  
Image copyright Fadia Faqir.
Bridget Kendall, Thomas Keneally, Fadia Faqir in the Forum studio. 24-10-2012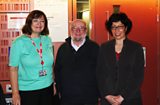 60 Second Idea
Fadia Faqir wants guilt to be made visible rather than kept hidden. Many try to combat shame and self-loathing in secret and in the privacy of their own homes. But imagine one morning you wake up with a debilitating sense of guilt, you tie a blue ribbon around your neck or your wrist and leave the house wearing it. Other people would see that and might start a conversation about your guilty feelings. Soon others would be wearing blue ribbon necklaces, showing that they struggle with feelings of guilt as much as you do. This would hopefully normalise guilt and help exorcise and eradicate it.
In Next Week's Programme…
Rivalry, in the tiger-eats-tiger world of politics, and, quite literally, in the laws of the jungle amongst animals; with Canadian author and politician Michael Ignatieff, Harvard law professor Lawrence Lessig and Dutch primatologist Frans de Waal.