Michael Jackson: The Thrill Of Thriller
To mark the 30th anniversary of the world's biggest selling album we look at what Michael Jackson means to the Ivory Coast village of Krindjabo - where after DNA tests revealed the singer was descended from the royal Sanwi line - he was declared a royal, known as Prince Michael Jackson Amalaman Anoh.
The story of Thriller story is one that has been continually shared in developed counties through TV, radio and film. However, there is one small pocket of the planet that has never had the chance to fully express its love of the music and the man, it's the village where Michael Jackson is more than the King of Pop. He really is royalty.
In this documentary we unveil the thrill of Thriller and what it means to the Ivory Coast village of Krindjabo. In 1992 Michael went to Africa and his visit to the Ivory Coast saw him draw more spectators than the Pope. Whilst on this visit he participated in an historic ceremony conducted beneath a sacred tree in the gold-mining village.
We talk to those in Krindjabo who met and orchestrated the King of Pop's visit and those who have been inspired by Michael and his most famous piece of work.
Presenter Jacqueline Springer has a rare meeting with the King and elders of Krindjabo, she tours the village and chats to some of the young people who witnessed the 1992 ceremony, and asks what Michael means to them. She also hears about the lengths they went to mourn his funeral and give him the celebration deserved by a prince.
Last on
Mon 29 Oct 2012
02:05

GMT
Michael Jackson in the video for Thriller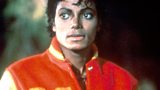 Michael Jackson and Ola Ray in the video for Thriller