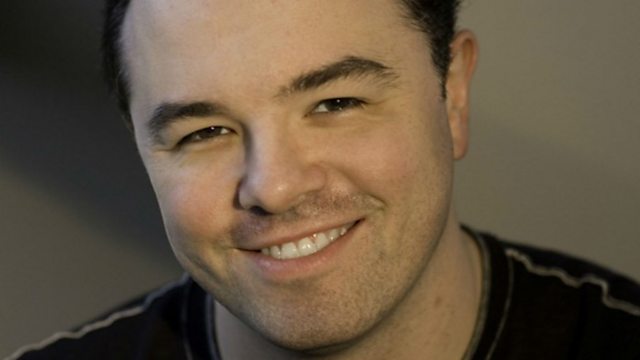 Seth MacFarlane - from Family Guy and American Dad to singing show tunes at the Proms
"I don't think you seem part of the same entity".
Nikki Bedi trys to reconcile the divergent career paths of the Emmy Award winning Seth MacFarlane.
On the one hand he's the creator of the subversive animated comedies Family Guy, American Dad and The Cleveland Show and live action film Ted and on the other a clean-cut masterful Sinatra-esque crooner. After an introduction which used "more words than the New Yorker and New York Times together" Nikki talks to Seth about recording his Grammy nominated album 'Music is Better than Words' of smooth big band show tunes, using Frank Sinatra's microphone. He was trained by Lee and Sally Sweetland, Barbra Streisand and Frank Sinatra's vocal coaches.
Seth talks about the success of Family Guy and American Dad that have successfully lampooned American culture from within the Fox Network where the series is shown in the US (on BBC Three in the UK) and how Family Guy's Stewie got his voice and unique rugby ball sized head.
Seth talks about donating money to create The Seth MacFarlane Collection of the Carl Sagan and Ann Druyan Archive at the Library of Congress, collating Carl Sagan's papers. He plans to remake the famous Cosmos series. He's also bought a replica of the DeLorean from Back to the Future.
The interview was recorded as part of Loose Ends, ahead of Seth's performance with the John Wilson Orchestra at the BBC Proms on the 27 August 2012 and on his albums release but before his announcement as the next host of the 85th Academy Awards (The Oscars). There's some interjections and laughter from other guests in the background, including Jon Holmes, Adil Ray and Dom Joly.