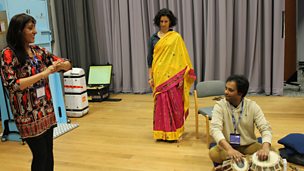 Behind the Scenes: Recording A Doll's House
Duration: 03:58
A behind the scenes film of the recording of Tanika Gupta's audio drama version of Ibsen's A Doll's House directed by Nadia Molinari for Radio 3: Drama on 3.
Includes scenes with Indira Varma as Niru, Toby Stephens as Tom, Conrad Nelson as Dr.Rank, Shaheen Khan as Mrs Lahiri and Anjum Malik as the Dancer. Featuring live music by Tabla Maestro Shahbaz Hussain.
This 'Behind the Scenes' film is produced and directed by Errol Murray.
This clip is from
Henrik Ibsen's classic play in a new version by Tanika Gupta, set in India in 1879.
First broadcast: 07 Oct 2012