Nosey stowaways
Duration: 01:14
A rufous-tailed hummingbird feeds on the flowers of the heliconia plant, which also provides food for flower mites. When a bird delves its beak into the bloom to get the nectar, the mites race on board. Size for size, they are as quick as a sprinting cheetah. They rely solely on the hummingbird to take them to fresh blooms, stowing away in the bird's nostrils. Up to a dozen mites may cram into these small flight compartments. They only disembark when they reach their favoured destination and each type of mite alights at its own favourite flower. These mites do little harm to the bird, but by blocking the nostrils they reduce flight efficiency and they compete for pollen and nectar. They have started to act like parasites.
Available since: Thu 4 Oct 2012
Credits
Narrator

Ciaran Mcmenamin
Camera Operator

Rod Clarke
Camera Operator

Mark Payne-Gill
Executive Producer

Keith Scholey
Director

Mark Brownlow
This clip is from
5/6 Series exploring strange animal behaviour focuses on unusual partnerships.
First broadcast: 18 Apr 2002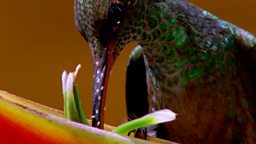 Featured in...
Be captivated, informed and inspired by the world's wildlife.
More clips from Puzzling Partners