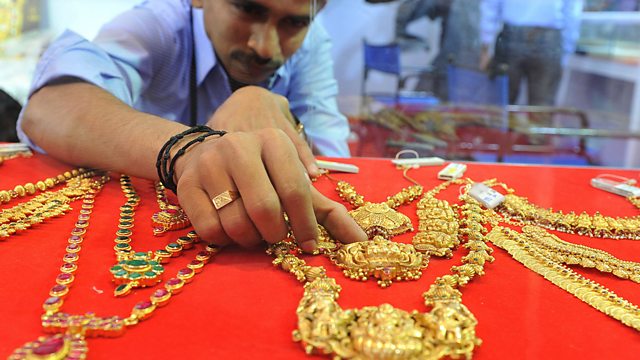 Spain and India
Pascale Harter presents behind-the-scenes stories from around the world.
The economic crisis has hit Spain particularly hard, and the slump has increased calls for independence in Catalonia, the north-east region which includes Barcelona. Catalans still commemorate the loss of their independence in 1714 and their region was one of the last holdouts against Republican forces in the civil war of the 1930s. With regional elections scheduled for next month, Catalonians are once again reacting against the central Spanish government. But our correspondent Niall O'Gallagher found that not everyone is willing to talk openly about independence.
In India, no major life event is complete without gold. Newborns commonly get golden gifts and the shiny metal is an essential element of any wedding. Small grains of gold are even placed in the mouths of the deceased. But with the price of gold skyrocketing, many poorer Indian families are putting themselves in debt to buy the precious metal. Rahul Tandon has been talking to brides and metal dealers to examine India's obsession with gold, but he found a pertinent example much closer to home.
(An Indian salesman arranges gold jewellery. Credit: NOAH SEELAM/AFP/Getty Images)
Last on
Wed 24 Oct 2012
03:50

GMT