A 'blind' robot in Slovenia aims to enable humans to be more human
Robots and Avatars
An exhibition of robots and avatars in Maribor, Slovenia has, some believe, the ability to make humans more human. But what sleights of hand and deceptions are involved when humans interact with robots in an exhibition? Are the ethical concerns that arise any different from those that come to the fore when robots help us in domestic settings and in industry? The Avatars and Robots is a collaborative project. The curators of the project are body>data>space, KIBLA and Altart, FACT and the UK's National Theatre. Gareth Mitchell talks to the co-curator of the exhibition, Maja Vuksanovic and the provocateur, Professor Noel Sharkey about human-robot interactions.
Iamus: Hello World
The first computer to have mastered the "language" of classical music so that it can produce original scores for contemporary classical music has been developed at the University of Malaga. It is a big step forward from previous computer-generated music as the huge variety of music composed by this new computer can be directly interpreted by musicians. Perhaps even more importantly, can it be differentiated from original works composed by humans? Click's Sylvia Smith visited the Technology Park just outside the city of Malaga where this new music machine is being developed.
Analysis Wall
A massive four square metres touchscreen, called the Analysis Wall, has been built by researchers at the UK's University of Dundee. The Analysis Wall is able to plot the path of a debate, and crucially, can give space to and separate out the arguments in real time. In so doing it facilitates online contributions in parallel. It might prove particularly effective for online debate and forms part of a burgeoning field called the 'Argument Web'. Professor Chris Reed, who leads the research group in Dundee, joins Click to demonstrate how the Analysis Wall works.
Last on
Sun 21 Oct 2012
21:32

GMT
LUMIBOTS, Mey Lean Kronemann, Robots and Avatars 2012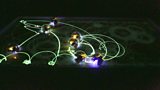 Photo credit: Bostjan Lah / ACE KIBLA