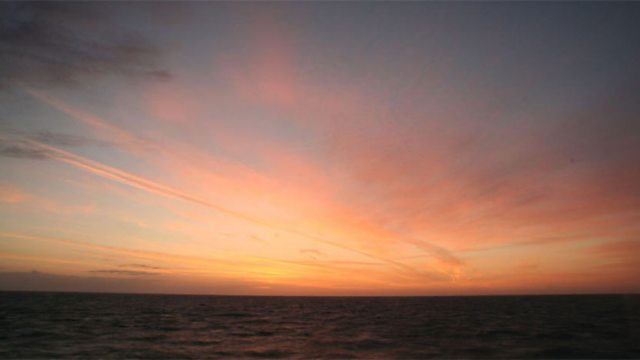 Thought for the Day - Brian Draper - 22/09/2012
Today, would you believe, is the autumn equinox - that delicate point of balance, when everyone in the world shares an equal portion of day and night, before we (in the north) commence our descent through the mists of autumn, deeper into winter darkness.
This equinox is one of four symmetrically spread days - along with its counterpart in the spring, and the solstices - which have, for millennia, not just provided a useful point of reference in the calendar, but a way of tracing our yearly path which yields profound spiritual connection with the whole of Creation. And it's a link we're in danger of losing in the modern world, as we try so hard to keep the darkness at bay.
Of course, you don't have to suffer from SAD to mourn the loss of summer days, and try, with every click of a light switch, to shield ourself from their passing ... But must we be afraid of the dark?
God's Creation itself embraces darkness, as part of its own cycle of birth, death and resurrection; as part of its continual renewing. And we, too, despite our electric lights and blankets, we too are Creation - standing within, not above it - with much to remember from nature about the nature of growth and transformation.
This particular stretch of the yearly path - from the equinox in autumn through to the winter solstice, is no doubt a harder one to travel. Marked by many spiritual traditions, it represents the path that requires we die before we can be born; that we must descend before we are lifted up; that we must face our own inner darkness before we can truly bask in the light of life.
Jesus' words confirm this. "If you cling to your life, you will lose it. And if you let your life go, you will save it," he said. "Unless a grain of wheat falls to the ground and dies, it remains only a grain of wheat..."
We might call our ego the husk of that grain, the outer shell - it's the part of us that's quick to take offence, it's selfish, and tries at the cost of others to preserve itself - and yet it must split and die in the dark, for the seed within, to grow towards the light.
Perhaps, remembering our part within Creation, we can yet learn to embrace this season, without fear of what's to come. For, even as we set off from this place of equinox today towards the solstice and the heart of darkness, we know, deep down, that life will still find light ahead.