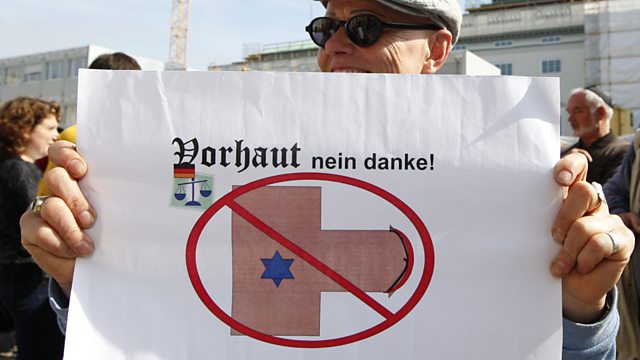 Germany's Circumcision Row
A decision taken in June by a regional court in Germany has caused outrage amongst Jews and Muslims.
The court ruled that circumcision for religious reasons - as practiced by Jews and Muslims - amounted to criminal assault.
Doctors across Germany immediately stopped performing it and religious people who continued to perform the practice felt themselves under threat of criminal prosecution.
As the German government proposes to make religious circumcision explicitly legal, Stephen Evans talks to the people - Jews and Muslim - who do it; to the lawyer who wants it banned and to a Muslim who regrets being circumcised.
He asks if the debate over circumcision is a matter of medicine, pure and simple - or an old-style attack on the Jewish faith - in Germany.
** Please note this programme contains a description of a medical circumcision **
(Image: A man holds a banner saying "Foreskin? No, thank you". Credit: OUTFLORIAN SCHUH/AFP/GettyImages)
Last on
Sat 13 Oct 2012
03:05

GMT
Tom Esslemont examines the mindset of Russia's skinheads in this week's Assignment.

Assignment investigates the growing influence of populist parties in Northern Europe.