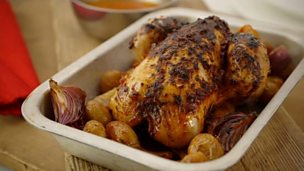 Whole roast perky peri peri chicken
Duration: 03:42
A different way to cook the roast chicken.

A 1.5-1.8Kg (3Lb 6oz – 4Lb) chicken would be about enough to serve four people but I have given the recipe using a bigger bird so that it gives some leftover chicken for sandwiches the next day. If you use a different size to the one below then work out the cooking time based on 20 minutes per 450g (1Lb) plus 20 minutes. Regardless what size bird you use, cover it after 1 hour and add the onions and potatoes about 45 minutes before the end of cooking time. To speed up the process, use some good sharp scissors to snip the chicken along the backbone to splay it out and cook flat.
Available since: Fri 7 Sep 2012
over a year left to watch
This clip is from
3/6 Lorraine demonstrates how to create classic dishes with minimum effort.
First broadcast: 27 Aug 2012